Home
→
Products
→
The Mighty Peking Man 1977 (Hong Kong Movies) BLU-RAY with English Subtitles (Region Free) 猩猩王
The Mighty Peking Man 1977 (Hong Kong Movies) BLU-RAY with English Subtitles (Region Free) 猩猩王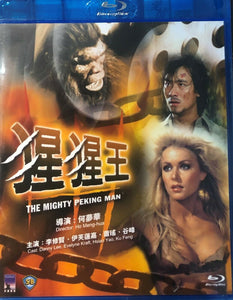 Usually ships within 5 days with TRACKING NUMBER and ships by Hong Kong Post.
The Mighty Peking Man 1977 (Hong Kong Movies) BLU-RAY with English Subtitles (Region Free) 猩猩王    (Shaw Brothers)
Cast :  Danny Lee, Evelyne Kraft, Hsiao Yao, Ku Feng
Language: Cantonese, Mandarin
Subtitles : English, Traditional Chinese, Simplified Chinese
Genres: Action , Adventure
Screen Format : 1080p High Def
Release Date : 2019-10-22
Distributor: IVL (H.K)
King Kong goes Hong Kong in this unique Shaw spin on the ageless theme of beauty and the beast. The beast, seven stories high and hailing from the Himalayas, loves Swiss beauty Evelyn Kraft, a sexy blonde Tarzanette who is also the object of lust from a sleazy show-biz promoter. Will the handsome young explorer save her from what was then Hong Kong's highest building? The action, Indian locations, and inter-racial romance made Variety reach this verdict: "High camp, Chinese style."
探險家陳正風(李修賢)受聘赴印度森林搜捕猩猩王,結果誤墮娛樂公司老闆魯天(谷峰)的圈套,將猩猩王帶往香港表演。同行的「女泰山」阿維(伊芙蓮嘉)見猩猩王慘遭捉弄擺佈,傷心之餘更被魯天意圖強姦。猩猩王睹狀狂性大發,大肆搗亂香港,市民一片慌亂,軍警如臨大敵……全片的特技道具,一絲不苟,猩猩王爬上香港當時最高建築物康樂大廈的鏡頭,令觀眾驚異萬分。