Home
→
Products
→
Space Battleship Yamato 2010 (Japanese Movie) BLU-RAY with English Subtitles (Region A) 宇宙戰艦大和號
Space Battleship Yamato 2010 (Japanese Movie) BLU-RAY with English Subtitles (Region A) 宇宙戰艦大和號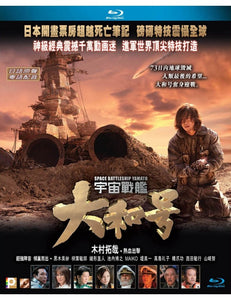 Usually ships within 3 days with TRACKING NUMBER and ships by Hong Kong Post.
Space Battleship Yamato 2010 (Japanese Movie) BLU-RAY with English Subtitles (Region A) 宇宙戰艦大和號
Cast :  Kimura Takuya, Kuroki Meisa, Toshiro Yanagiba
Director :  Takashi Yamazaki
Languages : Japanese, Cantonese
Subtitles : English,Traditional Chinese
Screen Format : Full HD 1080 Widescreen 
Sound System : dts HD Master Audio 5.1
Release Date : 2011-08-12
Distributor: Panorama (H.K)
In the distant future, the nearly-defeated forces of humanity lose a major battle to evil alien invaders the Gamilas, retreating back to a radiation-soaked, nigh-uninhabitable Earth, where they hatch one last-ditch scheme to save the population with a toxin-killing device supposedly sent from a benevolent species, located on the distant planet Iscandar. 
Earth's last hope is the giant star-cruising battleship Yamato; armed with a wave motion cannon capable of destroying massive Gamilas ships, the Yamato is launched with a ragtag crew including angsty hotshot Susumu Kodai, stoic bearded captain Okita, and spunky fighter pilot Yuki. The Yamato must race against time and across treacherous space to find this mysterious device and defeat the insidious Gamilas.
由木村拓哉主演、頂尖特技打造的《宇宙戰艦大和號》終於登錄大銀幕。故事發生在2199年,地球不再藍色,長久以來的嚴重環境污染,令人類難以在星球生存下去。於是,「宇宙戰艦大和號」出發了。
肩負著拯救地球這重大任務,一班太空人飛往無邊無際的浩瀚宇宙,他們相信在漫漫宇宙中一定能找到「希望」。導演山崎貴率領日本最強的電腦特技人才,以最尖端的科技,帶領觀眾體驗全新的銀河世界,加上萬人迷木村拓哉及《舞吧!昂》索女黑木美紗領航,令人熱切期待,電影甫上畫便榮登日本票房冠軍。
Region A: This region covers all of North America, South America and South East Asia.
Region B: This encompasses Europe, Africa, Middle East, French territories and Greenland.
Region C: Region which covers the rest of the world including Russia, Asia, and China