Dear Enemy 親密敵人 2012 (H.K Movie) BLU-RAY with English Subtitles (Region A)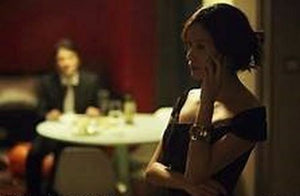 Usually ships within 3 days with TRACKING NUMBER and ships by Hong Kong Post.
Dear Enemy 親密敵人 2012 (H.K Movie) BLU-RAY with English Subtitles (Region A)
Blu-ray: Region A (USA, Canada, Central America, South America, Korea, Japan and Southeast Asia)
Cast : Stanley Huang, Christy Chung, Gi Gi Leung
Director : Xu Jing Lei
Language: Cantonese, Mandarin
Subtitles : English,Traditional Chinese,Simplified Chinese
Duration : 97 mins
Disc Format : Blu-Ray
System : NTSC
Sound System : Dolby True HD
Screen Format : 1920 x 1080 Full HD Widescreen
Release Date : 2013-06-21
Publisher : Panorama (HK)
Derek(Stanley Huang), a managing director of an investment bank, is a little bit anxious recently. The A corporation he serves for is now planning to merge B corporation. The problem is, however, his ex-girlfriend Amy(Xu Jinglei[5][6]) works as a financial consultant in B. Half a year ago, after falling in love with each other about seven years, a serious crisis broke out. Derek devoted himself into work too much. As a result, Amy couldn't bear this after being ignored for too long and did breaking up impulsively. She even jobhopped to another investment bank. "Being together for no more than 28 days in a year, 365 days. Even so, he is also working and calling." When meeting again, they competes fiercely and both tries to defeat the other. They are persons who know the other one best, thus the most troublesome opponents to each. At the same time, they begin to open their hearts to each other again gradually. One night in Chengdu, China, they finally pour out their love and face it sincerely.
Derek(黃立行 飾)是一家投資銀行的董事總經理,他服務的A公司即將對B公司進行收購,而後者的財務顧問正是他的前女友Amy(徐靜蕾 飾)。半年前, Derek因工作長期忽略了Amy,讓她衝動的結束7年感情,更賭氣跳槽到另一家投行。二人再見面時,已由昔日戀人變成職場敵人。 兩人為求目的不擇手段,期間Derek更與得力幹將Rebecca(梁詠琪飾)發生曖昧。正當大家鬥得難分難解時,Amy忽然收到父親大壽的邀請,誰知Derek與其姐姐Lucy(鍾麗緹飾)也出現。原來一切也是父親和Lucy巧妙安排,目的是向二人催婚。成都一夜,遠離激烈的戰場,二人終於敞開心屝,真誠面對彼此的感情。
Region A: This region covers all of North America, South America and South East Asia.
Region B: This encompasses Europe, Africa, Middle East, French territories and Greenland.
Region C: Region which covers the rest of the world including Russia, Asia, and China