Home
→
Products
→
Crazy Love 1993 Remastered (H.K Movie) BLU-RAY with English Subtitles (All Region) 蜜桃成熟時
Crazy Love 1993 Remastered (H.K Movie) BLU-RAY with English Subtitles (All Region) 蜜桃成熟時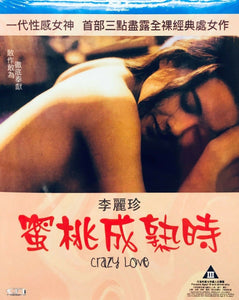 Usually ships within 5 days with TRACKING NUMBER
Crazy Love 1993 Remastered (H.K Movie) BLU-RAY with English Subtitles (Region Free) 蜜桃成熟時
Cast :  
Loletta Lee Lai Jan, Poon Chun Wai
Director : 

Cheung Shiu Lun
Language: Cantonese, Mandarin 
Subtitles : English, Traditional Chinese, Simplified Chinese
Sound System : dts HD Master Audio 5.1
Screen Format : 1920 x 1080 Full HD 
Publisher : CN Entertainment
Release Date :  2019-07-20
Zhen was a rich twenty-year-old who is very much pampered. However, her unruly character urged her to run wild. She was given the opportunity when her parents sent her to England to study English during her summer vacation. She wanted to have her own holiday and so she gave the air-ticket to her best friend. Thinking she could spend her time with her boyfriend, she went to his house in Lantau Island. But to her astonishment, she discovered her boyfriend sleeping with another girl. She went into a rage and left the island, determined to indulge in her own pleasure...
珍是一個年華雙十的富家女,自幼受盡千般呵護,但卻懷著一顆野性不羈的心,伺機放縱。暑假期間,父母安排她赴英國兩個月深造英文,珍卻想趁此機會計劃一個屬於自己的假期,珍暗地將機票贈予好友,歡天喜地以為可以與男友過甜蜜的二人世界,豈料發現男友正與另一女子鬼混,珍一氣之下獨自往離島,自我放逐。