Home
→
Products
→
The Fun, The Luck & The Tycoon 1990 (Hong Kong Movie) BLU-RAY with English Subtitles (Region A) 吉星拱照
The Fun, The Luck & The Tycoon 1990 (Hong Kong Movie) BLU-RAY with English Subtitles (Region A) 吉星拱照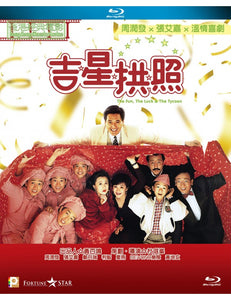 Usually ships within 3 days with TRACKING NUMBER and ships by Hong Kong Post.
The Fun, The Luck & The Tycoon 1990 (Hong Kong Movie) BLU-RAY with English Subtitles (Region A)  吉星拱照  
Cast : 

 Chow Yun Fat, Sylvia Chang
Languages : Cantonese, Mandarin
Subtitles : English,Traditional Chinese, Simplified Chinese
Screen Format : Full HD 1080 Widescreen 
Sound System : Dolby Digital 2.0
Release Date : 2020-01-21
Distributor: Panorama (H.K)
Lam Bo Sun (Chow Yun Fat), a rich playboy, is ordered by his grandmother to marry Cindy Chan (Nina Li) of the same family. But Sun doesn't like Cindy. Accidentally, he is misunderstood as a poor worker under Hung Leung Yuk's father. Yuk (Sylvia Chang) and Sun fall in love. Sun's identity is finally revealed in his wedding with Cindy…
林寶生(周潤發 飾)是城中闊少,玩世不恭。其祖母 為巨富孖女的大孖,小孖的孫女為玉仙(利智 飾),兩老 希望寶生和玉仙可以通婚,繼承龐大的遺產,肥水不流別人 田,但是二人並不相愛。寶生對此非常不滿,決定離家出 走,在餐廳當雜工,並認識了太子女(張艾嘉 飾),一見 鍾情。婚期將至,寶生的真實身份亦即將浮面……
Region A: This region covers all of North America, South America and South East Asia.
Region B: This encompasses Europe, Africa, Middle East, French territories and Greenland.
Region C: Region which covers the rest of the world including Russia, Asia, and China