Home
→
Products
→
LAN KWAI FONG 3 喜愛夜蒲 3 (2014) (Hong Kong Movie) DVD ENGLISH SUBTITLES (REGION FREE)
LAN KWAI FONG 3 喜愛夜蒲 3 (2014) (Hong Kong Movie) DVD ENGLISH SUBTITLES (REGION FREE)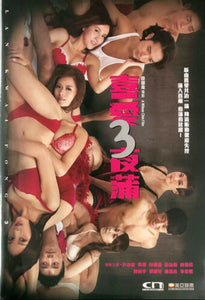 LAN KWAI FONG 3 喜愛夜蒲 3 (2014) (Hong Kong Movie) DVD ENGLISH SUBTITLES (REGION FREE)
Director : Wilson Chin
Cast : Whitney Hui, Ava Yu Kiu, Jeana Ho, Christine Ng Wing Mei, Alex Lam
Language : Cantonese, Mandarin
Subtitles : English, Traditional Chinese, Simplified Chinese
Disc Format : DVD
System : NTSC
Screen Format : 16:9 Widescreen
Sound System : Dolby Digital
Duration : 93 mins
Release Date : 2020- 04-28
Publisher : CN Entertainment H.K    romance

Usually ships within 4 days with TRACKING NUMBER and ships by Hong Kong Post.
Synopsis:
Shin and Sara have been engaged for two years but after an argument they agree to have a break. It doesn't take long for Sara's best friend Jeana to try to seduce him. Meanwhile, Jeana's boyfriend Jacky is getting close with Jolie and her fun, wild attitude to life. So comes the weekend and Lam Kwai Fong is as bustling as usual. As the group heads to Lan Kwai Fong, the relationship between all of them starts to change.....
2013年某一週末晚上,蘭桂坊各處如常熙熙攘攘, Ava、Jeana、Papa聚首一堂,浩浩蕩蕩,出入等各蒲場。
Ava與阿信,已訂婚兩年。一次阿信前女友邀請阿信參 加她的婚後派對,引起Ava反感,雙方一怒之下,約法三章, 提出「各有各蒲,互不干涉」。 Jeana與Jacky的同居關係 已發展到純粹同住的關係,感情已淡無可淡。Jeana一直對好 友Ava的男友情有獨鐘,當Ava與阿信各有各蒲時,Jeana更 多次藉機接近阿信,大獻殷。 Jolie是夜場老闆娘May的堂 妹,May對她龐愛有加,明知夜場經理Jacky有同居女友 Jeana,也處處找機會撮合Jolie與Jacky,Jacky也因 Jolie酷似他前女友而對Jolie處處照顧。
Papa其貌不揚,亦有體味,身上一切的缺陷,世上唯獨 夜場可以彌補。一次,與剛入職法醫的Parker互相過電,繼 之發生一夜情…