Home
→
Products
→
Love Unto Wastes 地下情 1986 (Hong Kong Movie) BLU-RAY with English Subtitles (Region A)
Love Unto Wastes 地下情 1986 (Hong Kong Movie) BLU-RAY with English Subtitles (Region A)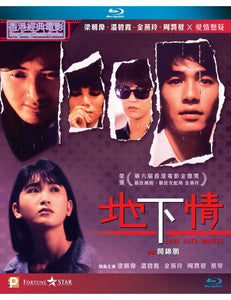 Love Unto Wastes 地下情 1986 (Hong Kong Movie) BLU-RAY with English Sub (Region A)
Cast: Chow Yun Fat, Tony Leung, Irene Wan, Elaine Kam
Director : Stanley Kwan
Language : Cantonese, Mandarin
Subtitles : English, Traditional Chinese, Simplified Chinese
System : NTSC
Disc Format : Blu-Ray
Screen Format : Full HD 1080 Widescreen
Sound System : Dolby True HD 5.1
Duration : 98
mins
Release Date : 2021-06-18
Publisher : Panorama HK

Usually ships within 5 days with TRACKING NUMBER
Synopsis:
Billie Yuen (Irene Wan) and her two friends, Jade Screen Liu (Elaine Jin) and Jane Chiu (Tsai Chin), who came from Taiwan, share the same ideal to become famous. The three women meet Tony Cheung (Tony Leung) who is the son of a rice wholesaler at a bar. Tony is madly clung to the indifferent dressing Billie and then they cohabit. The four friends spend a good night at Jade's home, celebrating her birthday.

One night, when Jade comes home late, Jane is found being murdered. The three friends then receive Detective Lan's (Chow Yun Fat) inquiry individually. Jade feels depressed since her best friend conceals everything. When Tony accompanies Jade back home, the sight strikes a chord in her heart and Tony tries hard to comfort her. They eventually have sex and Jade is pregnant. The news shocks Billie, whereas Tony can't choose between the two women. Finally both Billie and Jade leave Tony and the three notice the one they love the most is themselves.
少女阮貝兒(溫碧霞 飾)及來自台灣的朋友廖玉屏 (金燕玲 飾)和趙淑玲(蔡琴 飾)皆以成名為人生目 標。她們在酒吧認識米鋪少東張樹海(梁朝偉 飾)。張樹 海被阮貝兒的外表吸引,兩人很快共墮愛河並同居。廖玉屏 生日,四人一起過了熱鬧的一天。 一夜,廖玉屏深夜返家 發現趙淑玲被殺…..
Region A: This region covers all of North America, South America and South East Asia.

Region B: This encompasses Europe, Africa, Middle East, French territories and Greenland.

Region C: Region which covers the rest of the world including Russia, Asia, and China