Home
→
Products
→
The Ballad of Narayama 楢山節考 1983 (Japanese Movie) BLU-RAY with English Sub (Region A)
The Ballad of Narayama 楢山節考 1983 (Japanese Movie) BLU-RAY with English Sub (Region A)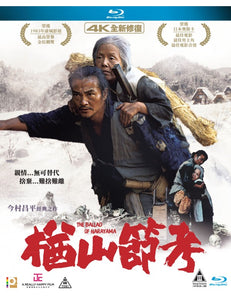 The Ballad of Narayama 楢山節考 1983 (Japanese Movie) BLU-RAY with English Sub (Region A)    4K Restored Version
Director : Shohei Imamura
Cast : Ken Ogata, Masami Okamoto, Fujio Tsuneda
Subtitles : English, Traditional Chinese, Simplified Chinese
Disc Format : Blu-Ray
System : NTSC
Screen Format : Full HD 1080 Widescreen
Sound System : PCM 2.0
Duration : 130 mins
Release Date : 2019-07-12
Publisher : Panorama (HK)

Usually ships within 5 days with TRACKING NUMBER
Synopsis:
In a small village everyone who reaches the age of 70 must leave the village and go to a certain mountaintop to die. If anyone should refuse he/she would disgrace his/her family. Old Orin is 69. This winter it is her turn to go to the mountain. But first she must make sure that her eldest son Tatsuhei finds a wife.

日本深山中的貧困小村莊,傳統上年屆七十的老人都會被放逐到楢山,自生自滅活活餓死,以減少家庭的負擔,讓家人渡過漫長的寒冬。六十九歲的阿玲婆婆身體仍然強健,為了怕長子辰平惹人嘲笑,她甚至故意敲掉自己結實的門牙,以免被鄰居認為浪費糧食。在離開前,她也為著兒子與孫兒的婚事和生計奔波,直至上山前的一刻.
Region A: This region covers all of North America, South America and South East Asia.
Region B: This encompasses Europe, Africa, Middle East, French territories and Greenland.

Region C: Region which covers the rest of the world including Russia, Asia, and China