Unbeatable 激戰 2013 (Hong Kong Movie) BLU-RAY with English Subtitles (Region A)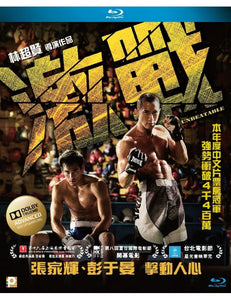 Unbeatable 激戰 2013 (Hong Kong Movie) BLU-RAY with English Subtitles (Region A)
Cast:  Nick Cheung Kar Fai, Eddie Pen Yu An
Director :  Dante Lam Chiu Yin
Language : Cantonese, Mandarin
Subtitles : English, Traditional Chinese, Simplified Chinese
System : NTSC
Disc Format : Blu-Ray
Screen Format : Full HD 1080 Widescreen
Sound System : Dolby True HD 
Duration : 183 mins
Release Date : 2013-06-12
Publisher : Panorama HK

Usually ships within 5 days with TRACKING NUMBER
Synopsis:
After a stint in prison for participating in fixed boxing, former boxing champ Fai (Nick Cheung) is knee-deep in debt with no solution in sight. To escape his debtors, Fai escapes to Macau and works in a gym as an assistant instructor in weight loss classes. With no money, Fai is arranged to share a house with recovering mental patient Gwen and her ten-year-old daughter Dan. Even though their co-existence starts out as hostile, it slowly turns into a family-like bond – with Fai acting as the pair's protector.

Hot-blooded Qi (Eddie Peng) was once the son of a rich man in Mainland China. However, the family business failed, sending his dad into alcohol-fueled depressing and forcing Qi to take up construction jobs in Macau. To inspire his father to stand up again, Qi enters an open MMA competition and starts training at Fai's gym.

With Fai as trainer and Qi as the fighter, the pair's hard work pays off with consecutive wins in the tournament. The victories even inspire Qi's father to find his footing and get back up. However, Qi's ultimate opponent in the tournament is Lee (Andy On), a fighter best known for his ferocity...
兩屆香港拳王的程輝 (張家輝 飾),因打假拳被捕入 獄,出獄後為避債逃到澳門。在好友安排下,輝在拳館擔任 减肥班助教,更無奈與單身母親君 (梅婷 飾) 和十歲女兒 丹共住一屋,這對問題母女帶給他很多麻煩。
熱血青年富二代思齊 (彭于晏 飾),因父親破產後, 只能做苦力謀生。機緣巧合下,齊在輝的拳館學拳,並報名 參加MMA (混合格鬥) 比賽,希望藉此鼓勵父親重新振作, 決定拜輝為師。這對師徒互相激勵,在公開賽中,齊憑輝調 教的技術連勝數場。但接下來要面對的卻是出名凶悍的拳壇 野獸李子天 (安志杰 飾)。同時,丹出事令君的精神病復 發……
Region A: This region covers all of North America, South America and South East Asia.

Region B: This encompasses Europe, Africa, Middle East, French territories and Greenland.

Region C: Region which covers the rest of the world including Russia, Asia, and China