Home
→
Products
→
La Famille Belier 閃亮的歌聲 2014 French Movie (BLU-RAY) with English Subtitles (Region A)
La Famille Belier 閃亮的歌聲 2014 French Movie (BLU-RAY) with English Subtitles (Region A)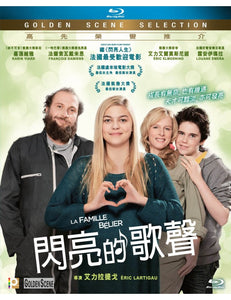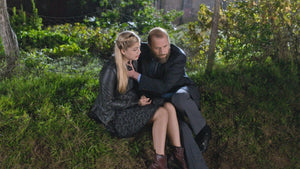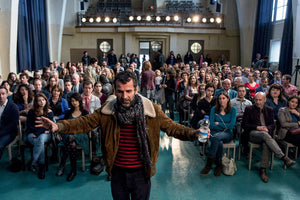 Usually ships within 3 days with TRACKING NUMBER and ships by Hong Kong Post.
La Famille Belier 閃亮的歌聲 2014 French Movie (BLU-RAY) with English Subtitles (Region A)
Cast : Karin Viard, Francois Damiens, Eric Elmosnino
Director : Eric Lartigau
Language: French, Spanish
Subtitles : English,Traditional Chinese
Duration : 106 mins
Disc Format : Blu-Ray
System : NTSC
Release Date : 2015-12-28
Sound System : Dolby Digital EX
Screen Format : Full HD1080 Dolby True HD
Publisher : Panorama (HK)
Stet, a troubled and angry 11-year-old orphan from a small Texas town, ends up at a Boy Choir school back East after the death of his single mom. Completely out of his element, he finds himself in a battle of wills with a demanding Choir Master who recognizes a unique talent in this young boy as he pushes him to discover his creative heart and soul in music....
貝耶一家四口看似跟一般家庭無異,在法國小鎮經營農場,平平凡凡地過活。但事實上這家人絕不平凡,因為除了16歲的女兒波娜外
,全家人都是聾啞的,日常要用手語溝通,而波娜也成了家人與外界溝通的翻譯員。誰想到生於聾啞之家的波娜,不但幸運地能說能
聽,上天更給予她一把天使之聲。
波娜的音樂老師發掘了她的潛質,銳意帶她去巴黎的頂級合唱團面試,但無法聽到波娜歌聲的家人,完全不理解女兒為何要為了唱歌而遠走高飛。原本無聲勝有聲的一家人充滿歡樂,但現在為了這件事終日「吵吵鬧鬧」。波娜為了追求夢想,是否要付出沉重代價?她如何令父母「聽」到她那閃亮的歌聲,「聽」到她內心的冀盼與
渴望?
Region A: This region covers all of North America, South America and South East Asia.
Region B: This encompasses Europe, Africa, Middle East, French territories and Greenland.
Region C: Region which covers the rest of the world including Russia, Asia, and China