Home
→
Products
→
My Voice My Life 2014 (Hong Kong Documentary) DVD with English Subtitles (Region 3)
My Voice My Life 2014 (Hong Kong Documentary) DVD with English Subtitles (Region 3)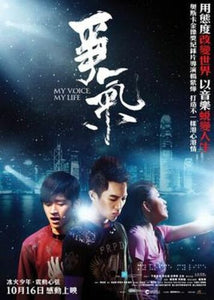 Usually ships within 3 days with TRACKING NUMBER and ships by Hong Kong Post.
My Voice My Live 2004 (Hong Kong Documentary) DVD with English Subtitles (Region 3) 
Director : Ruby Yang
Language: ,Cantonese
Subtitles : English ,Traditional Chinese
Disc Format : DVD
System : NTSC
Release Date : 2015-11-11
Sound System : Dolby Digital 5.1
Screen Format : Widescreen
Duration : 91 mins
Publisher : Edko Films Ltd. (HK)
Synposis:
There are few feelings as glorious as spreading your wings onstage for the first time.
Ruby Yang captures that rare electricity in her documentary "My Voice, My Life,"…"
The New York Times …an emotionally powerful must-see"
Edge Media Network

"My Voice, My Life," a Hong Kong documentary directed by Oscar winner Ruby Yang, chronicles the trials and tribulations of a group of underprivileged middle and high school students as they underwent six months of vigorous training to produce a musical on stage. A life-affirming journey of self-discovery and growth, the stories of these young people will challenge every parent, teacher and policy maker to reflect on our way of nurturing the young.
Region 1: U.S., U.S. Territories, Canada, and Bermuda

Region 2: Japan, Europe, South Africa, and the Middle East, including Egypt

Region 3: Southeast Asia, East Asia, including Hong Kong

Region 4: Australia, New Zealand, Pacific Islands, Central America, South America, and the Caribbean

Region 5: Eastern Europe, Baltic States, Russia, Central and South Asia, Indian subcontinent, Africa, North Korea, and Mongolia

Region 6: China