Home
→
Products
→
Journey To The West : Conquering The Demons 2013 (Hong Kong) DVD with English Subtitles (Region 3)
Journey To The West : Conquering The Demons 2013 (Hong Kong) DVD with English Subtitles (Region 3)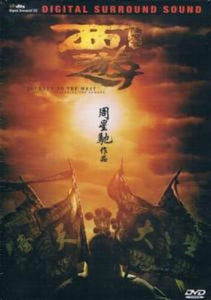 Usually ships within 3 days with TRACKING NUMBER and ships by Hong Kong Post.
Journey To The West : Conquering The Demons 2013 (Hong Kong) DVD with English Subtitles (Region 3)
Cast : Shu Kei, Wen Zhang, Luo Zhi Xiang, Huang Bo
Director : Stephen Chow
Language: Cantonese
Subtitles : English,Traditional Chinese
Duration : 110 mins
Disc Format : DVD
System : NTSC
Sound System : .6.1, Dolby Digital 5.1, DTS Digital Surround, Dolby Digital EX(TM) / THX Surround EX(TM)
Screen Format : Widescreen
Release Date : 2013-05-09
Publisher : Edko Films Ltd. (HK)
Synposis:
This is a world plagued by demons, causing its human inhabitants unspeakable suffering. Young demon-catcher Xuan Zhang, fearlessly guided by the belief "give myself for the greater cause", risks his all and catches a water demon, a pig demon and the king of all demons the Monkey King. He makes them his disciples, and reforms them with love. Meanwhile, Xuan Zhang himself discovers the true meaning of the Greater Love. In order to rescue the world, and for redemption from their own sins, the four of them, without any regrets, start on the hellish journey to obtain the Buddhist scriptures from the West….
Region 1: U.S., U.S. Territories, Canada, and Bermuda
Region 2: Japan, Europe, South Africa, and the Middle East, including Egypt
Region 3: Southeast Asia, East Asia, including Hong Kong
Region 4: Australia, New Zealand, Pacific Islands, Central America, South America, and the Caribbean
Region 5: Eastern Europe, Baltic States, Russia, Central and South Asia, Indian subcontinent, Africa, North Korea, and Mongolia
Region 6: China