Home
→
Products
→
THE SUMMER OF SANGAILE 攣攣初夏 2016 (Lithuanian Movie) DVD with ENGLISH SUBTITLES (REGION 3)
THE SUMMER OF SANGAILE 攣攣初夏 2016 (Lithuanian Movie) DVD with ENGLISH SUBTITLES (REGION 3)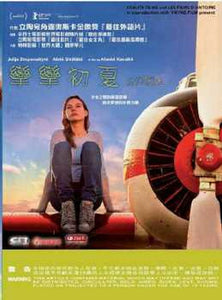 Usually ships within 3 days with TRACKING NUMBER and ships by Hong Kong Post.
THE SUMMER OF SANGAILE 攣攣初夏 2016 (Lithuanian Movie) DVD with ENGLISH SUBTITLES (REGION 3)
Cast : Julija Steponaityte, Aiste Dirziute
Director : Alante Kavaite
Language: Lithuanian
Subtitles : English,Traditional Chinese
Duration : 90 mins
Disc Format : DVD
System : NTSC
Release Date : 2017-03-07
Sound System : Dolby Digital
Screen Format : Widescreen 16:9
Publisher : CN Entertainment H.K
Synposis:
17 year-old Sangaile is fascinated by stunt planes. Afraid of heights, she has never dared to even enter in one of the cockpits. At a summer aeronautical show, nearby her parents' lakeside villa, she meets Auste, a local girl of her age, who unlike Sangaile, lives her life to the full with creativity and dare. As the two girls become lovers, Sangaile allows Auste to discover her most intimate secret, and finds in her teenage love the only person to truly encourage her in flying.

香港國際Cine Fan夏日國際電影節
法國《電影手冊》評為十佳電影之一
《Personal Shopper》朱莉亞斯潘娜妮特
立陶宛影后 -艾莎迪蒂琪

少女之間的青澀戀情…追求夢想的年輕力量

17歲文靜少女,迷上飛行特技表演,想飛卻畏高,想愛但卻步,暗中割手自殘,在手臂刻下成長的年輪。當接近無限溫暖的初夏,碰上同齡好動女生,愛拍照愛裁縫,以衣服貼身傳情,以體溫互相取暖,更激起她展翅飛翔的勇氣,在高空尋獲自由。立陶宛女導演自編自導,在當地旖旎醉人的自然景色裏,以溫柔細膩的鏡頭捕捉甜美又傷感的青春,拍出賞心悅目的佳作。兩位年輕主角亦大放異彩,坦露角色內心潛藏的脆弱與倔強。
Region 1: U.S., U.S. Territories, Canada, and Bermuda
Region 2: Japan, Europe, South Africa, and the Middle East, including Egypt
Region 3: Southeast Asia, East Asia, including Hong Kong
Region 4: Australia, New Zealand, Pacific Islands, Central America, South America, and the Caribbean
Region 5: Eastern Europe, Baltic States, Russia, Central and South Asia, Indian subcontinent, Africa, North Korea, and Mongolia
Region 6: China