The Trail 追鬼七雄 1983 (Hong Kong) BLU-RAY English Subtitles (Region A)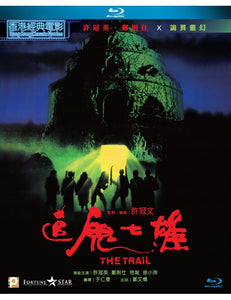 Usually ships within 5 days with TRACKING NUMBER and ships by Hong Kong Post.
The Trail 追鬼七雄 1983 (Hong Kong) BLU-RAY English Subtitles (Region A)
Cast : Ricky Hui, Kent Cheng
Director : Ronny Yu
Language : Cantonese, Mandarin
Subtitles : English, Traditional Chinese, Simplified Chinese
System : NTSC
Disc Format : Blu-Ray
Screen Format : Full HD 1080 Widescreen
Sound System : Dolby True HD
Duration : 91 mins
Release Date : 2020-02-28
Publisher : Panorama (HK) horror action
Synposis:
Long ago in China, corpses are supposed to be able to follow orders given by a leader and 'jump' to their respective burial places. However, some drug dealers use this method to smuggle opium. Things are going well until the local aristocrat, Miu Tin, murders a singer's husband as he fails in attempting to rape her. He asks the corpse leader to take the body away.
Then, another man is killed mysteriously. When the villagers try to go after the case, they find a strange corpse sucking in a huge snake in an old tower. Many people are killed as they try to get out in time. Those who manage to live run to locate Miu. He is afraid that he will be caught and is, therefore, ready to kill anyone to save his life.
財主苗老爺托以趕屍為名實為運送鴉片的冒牌趕屍隊, 把一具不明男屍帶走,但隊員排長(鄭則仕 飾)及阿英 (許冠英 飾)不欲阻礙行程,誤將男屍弄丟了在硫磺池 裡,男屍化為怪屍。後來,有村民不明被殺,隊員發現乃怪 屍所為,成員逐一遇害,必有冤情。苗老爺隱瞞怪屍死於其 手,怪屍亦狂性大發,誓把苗老爺及生還者殺光!
Region A: This region covers all of North America, South America and South East Asia.

Region B: This encompasses Europe, Africa, Middle East, French territories and Greenland.

Region C: Region which covers the rest of the world including Russia, Asia, and China