Home
→
Products
→
Troublesome Night 1997 (Hong Kong Movie) BLU-RAY with English Subtitles (Region Free) 陰陽路
Troublesome Night 1997 (Hong Kong Movie) BLU-RAY with English Subtitles (Region Free) 陰陽路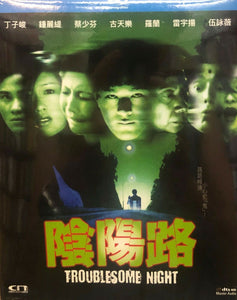 Usually ships within 5 days with TRACKING NUMBER and ships by Hong Kong Post
Troublesome Night 1997 (Hong Kong Movie) BLU-RAY with English Subtitles

(Region Free)

 

陰陽路

 
Director : Louis Koo, Simon Lui, Christy Chung, Law Lan
Cast : Cheng Wai Man, Tam Long Cheong, Herman Yau
Language: Cantonese, Mandarin
Subtitles :  English, Traditional Chinese, Simplified Chinese
Duration : 96 mins
System :  NTSC 
Genres : Horror
Sound System : dts HD Master Audio 5.1
Screen Format : 1920 x 1080 Full HD
Publisher : CN Entertainment
Release Date :  2019-06-21
Synposis:
The film is comprised of three ghost stories: Copying Tombstones, Losing One s Way and the Ghost Cinema. 
Four young men go camping and find three girls pitching a camp beside them. The seven join together and Kent (Louis Koo) suggests going to the graveyard to copy what is written on the tombstones.....
Losing One s Way ? Mrs To (Christy Chung) has a date with her husband (Sunny Chan) to celebrate their wedding anniversary. Thus Mr To encounters a car accident when he is rushing for the dating ...
The Ghost Cinema ? Hung (Ng Chi-hung) and May (Christine Ng) go to see a movie and were mistakenly given two fobidden seats which were originally reserved for the ghosts in the cinema....
黑色喜劇《陰陽路》是由四個單元故事連貫而成。
故事一:《抄墓碑》幾位男女(古天樂、丁子峻、朱永 棠、蔡少芬、麥家琪-飾)露營講鬼鬥大膽,他們還提議到附 近的墓地,抄下墓碑上死者的資料,後來他們竟然發現有一 座新墳是他們其中一人...
故事二:《陰陽路》杜家明(陳錦鴻-飾)與Ann(郭可 盈-飾)遇上山泥傾瀉意外身亡,但在意外發生後半小時,杜 太(鍾麗緹飾)竟能與老公通電話,並等著他回來接她一同晚 膳...
故事三:《紅噹噹》三個年輕人前往寶福山拜祭,Jo Jo (麥家琪-飾)看到杜家明的墓碑,惋惜他英年早逝,由 於Jo Jo 穿了紅色內衣褲,鬼魂「逢紅必跟」,於是便鬼 纏身...
故事四:《陀地位》電影名星大雄(吳志雄-飾)與女友 (伍詠薇-飾)同看自己的新片首映,二人竟坐了「陀地 位」,座位是鬧鬼戲院留給一排專讓鬼陀地所坐的,後來怪 事連連發生...