Home
→
Products
→
Finale In Blood 大鬧廣昌隆 1993 (Hong Kong Movie) BLU-RAY with English Subtitles (Region A)
Finale In Blood 大鬧廣昌隆 1993 (Hong Kong Movie) BLU-RAY with English Subtitles (Region A)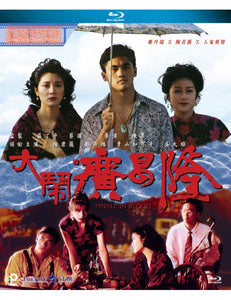 Usually ships within 3 days with TRACKING NUMBER and ships by Hong Kong Post.
Finale In Blood 大鬧廣昌隆 1993 (Hong Kong Movie) BLU-RAY with English Subtitles (Region A)
Cast :  Tiu Gwan Mei, Ruth Winona Tao, Lawrence Cheng, David Wu
Language : Cantonese, Mandarin
Subtitles : English, Traditional Chinese, Simplified Chinese
System :  NTSC 
Screen Format : Full HD 1080 Widescreen
Sound System : Dolby True HD
Duration : 95 mins 
Release Date : 2020-02-07
Publisher : Panorama (HK)   horror romance
A radio disc jockey Cheng (Lawrence Cheng), who unexpectedly comes into contact with the beautiful ghost Feng (Tiu Gwan Mei). Hoping to seek revenge on the man responsible for her death, Feng persuades Cheng to tell her story on air. Unfortunately, while Cheng's radio show gains high popularity, it also attracts the attention of Feng's killer…
電台DJ鄭明寶(鄭丹瑞 飾)意外墜海,卻幸運地被一把飄來的奇傘救起,更認識了原本躲在傘裡面的女鬼方茵(陶君薇 飾)。女鬼方茵希望鄭能帶她返回「廣昌隆」,找她的負心丈夫和情婦報仇。鄭將她坎坷的愛情故事在電台中播出,大受歡迎,令他由小職員變成擁有自己節目時段的電台節目主持人。他決心幫女鬼一把,可惜,命運弄人……
Region A: This region covers all of North America, South America and South East Asia.
Region B: This encompasses Europe, Africa, Middle East, French territories and Greenland.
Region C: Region which covers the rest of the world including Russia, Asia, and China