Home
→
Products
→
Ghost in the Shell Arise Border 4 Ghost Stands Alone (BLU-RAY) with English Sub (Region A)
Ghost in the Shell Arise Border 4 Ghost Stands Alone (BLU-RAY) with English Sub (Region A)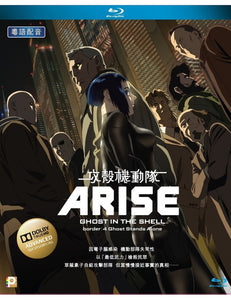 Usually ships within 3 days with TRACKING NUMBER and ships by Hong Kong Post.
Ghost in the Shell Arise Border 4 Ghost Stands Alone (BLU-RAY) with English Sub (Region A)
Language: Japanese ,Cantonese
Subtitles : English, Chinese Traditional,Simplified Chinese
Duration : 59 mins + 35 mins (bonus)
Disc Format : Blu-Ray 
System : NTSC
Sound System : Dolby TrueHD 5.1 Advanced 96kHz Upsampling
Screen Format : Full HD 1080 Widescreen
Release Date : 2014-12-14
Publisher : Panorama (HK)
Synopsis :

The story takes place amidst signs of post-war reconstruction in the winter of 2028. Tensions are rising in New Port City as demonstrations are held concerning the interests of foreign cartels. This leads to a shooting incident involving riot police. It all started with a cyberbrain infection released by the terrorist "Fire Starter". An independent offensive unit led by Motoko Kusanagi entrusts the suppression of the situation to their ghosts and aims for their own justice. Below the surface of the incident, lies the "Tin Man" Emma and the "Scarecrow" Brinda Junior. As Motoko Deals with the incident, she draws near to what those two ghosts were seeking.

故事發生在戰後逐漸重建的2028年冬天,圍繞著國外 軍火集團問題的示威活動越趨白熱化,在新濱市發生機動部 隊槍殺遊行民眾的事件。事件起源於恐怖份子「Fire Starter」所引發的電子腦感染。草薙素子組成了獨立的攻 擊部隊,委託他們的靈魂去控制情況,而自己則去尋求事件 的真相。但當素子展開深入調查的同時,逐漸接近隱藏在事 件核心的兩個靈魂—鐵皮人愛瑪和稻草人布連達二世,以及 他們想所追求的東西。
Region A: This region covers all of North America, South America and South East Asia.

Region B: This encompasses Europe, Africa, Middle East, French territories and Greenland.

Region C: Region which covers the rest of the world including Russia, Asia, and China