Home
→
Products
→
NIGHT IS SHORT, WALK ON GIRL 2017 (JAPANESE ANIMATION) DVD WITH ENG SUB (REGION 3)
NIGHT IS SHORT, WALK ON GIRL 2017 (JAPANESE ANIMATION) DVD WITH ENG SUB (REGION 3)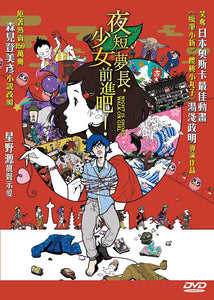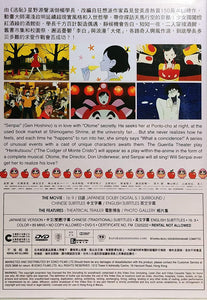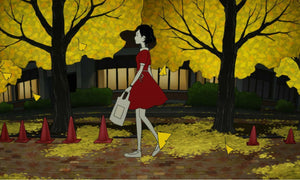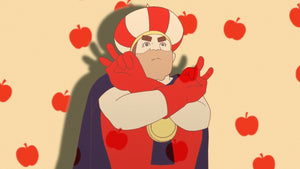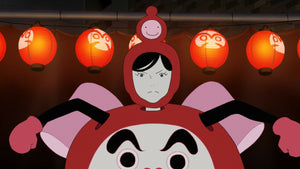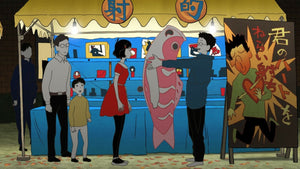 Usually ships within 4 days with TRACKING NUMBER and ships by Hong Kong Post.
NIGHT IS SHORT, WALK ON GIRL 2017 (JAPANESE ANIMATION) DVD WITH ENGLISH SUB (REGION 3)
Cast : Gen Hoshino, Kana Hanazawa
Director : Masaaki Yuasa
Language: Japanese
Subtitles : English, Traditional Chinese
Duration : 89 mins
Disc Format : DVD
Sound System : Dolby Digital 5.1 Surround
Screen Format : Widescreen
System : NTSC
Release Date : 2018-08-16
Publisher : Edko Films Ltd. (HK)

Night Is Short, Walk On Girl (夜は短し歩けよ乙女)Yoru wa Mijikashi Aruke yo Otome) is a Japanese animated romantic comedy film directed by Masaaki Yuasa. The film is based on the novel of the same name written by Tomihiko Morimi, Japanese editions of which are illustrated by the film's original character designer, Yūsuke Nakamura.
Synposis :

"Senpai" (Gen Hoshino) is in love with "Otome" . He seeks her at Ponto-cho at night, at the used book market at Shimogamo Shrine, at the university fair… But she never realizes how he feels, and each time he "Happens" to run into her, she simply says "What a coincidence!" A series of unusual events with a cast of unique characters awaits them. The Guerilla Theater play "Henkutsuou" ("The Codger of Monte Cristo") will appear as a play-within-the-anime in the form of a complete musical. Otome, the Director, Don U, and Senpai will all sing! Will Senpai ever get her to realize his love?

由《逃恥》星野源聲演倒楣學長,改編自狂想派作家森見登美彥熱賣150萬本口碑作動畫大師湯淺政明延續超現實風格和入世哲學,帶你深訪天馬行空的京都﹗少女獨闖燈紅酒綠的酒館街,學長千方百計製造偶遇,靜候機會告白。短短一夜,二人穿梭酒館、舊書市集和校園祭,邂逅憂鬱「李白」與浪漫「大佬」,各路奇人興風作浪,到底學長多災多難的求愛作戰會否成功?
Region 1: U.S., U.S. Territories, Canada, and Bermuda

Region 2: Japan, Europe, South Africa, and the Middle East, including Egypt

Region 3: Southeast Asia, East Asia, including Hong Kong

Region 4: Australia, New Zealand, Pacific Islands, Central America, South America, and the Caribbean

Region 5: Eastern Europe, Baltic States, Russia, Central and South Asia, Indian subcontinent, Africa, North Korea, and Mongolia

Region 6: China