NOBODY'S PERFECT 五體不滿足老師 2013 (JAPANESE MOVIE) DVD WITH ENGLISH SUB (REGION 3)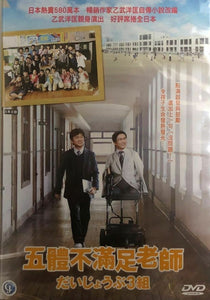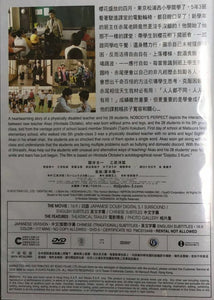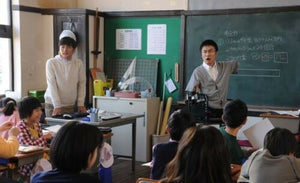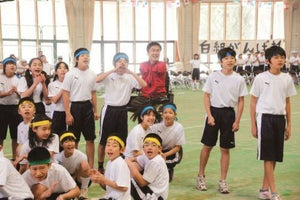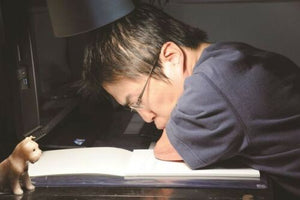 Usually ships within 4 days with TRACKING NUMBER and ships by Hong Kong Post.
NOBODY'S PERFECT五體不滿足老師 2013 (JAPANESE MOVIE) DVD WITH ENGLISH SUB (REGION 3)
Cast : Taichi Kokubun, Hirotada Ototake, Eikura Nana
Director : Ryuichi Hiroki
Language: Japanese
Subtitles : English, Traditional Chinese
Duration : 117 mins
Disc Format : DVD
System : NTSC
Sound System : Dolby Digital
Release Date : 2014-11-05
Publisher : Edko Film HK Ltd
Synopsis :

A heartwarming story of a physically disabled teacher and his 28 students, NOBODY'S PERFECT depicts the interactions between new teacher Akao (Hirotada Ototake), who was born without arms and legs, and the 28 students in his 5th grade class, told from the vantage point of school board member Shiraishi (Taichi Kokubun). First day of school at Matsuura Nishi elementary school, who walked into 5th grade- class 3 was a physically disabled teacher with no arms and legs! Sighting Akao in his wheel chair, the students are so shocked that none of them spoke a single word. Akao soon get along with the class and understands that the students are facing multiple problems such as bullying and domestic discord. With the help of Shiraishi, Akao help out the students with unusual and alternative ways of teaching! Akao and his 28 students' year full of smile and tears has just begun. The film is based on Hirotada Ototake's autobiographical novel "Daijobu 3 Kumi."

櫻花盛放的四月,東京松浦西小學開學了,5年3班看 著駛進課室的電動輪椅,都目瞪口呆了!新學年的班主任赤 尾老師竟然是沒手沒腳的!他開始了他那不一樣的課堂:帶 學生到櫻花樹下開班會、一起跟同學吃午餐;還身體力行, 展示自己未被殘疾所困,反而活得自由自在,上落樓梯、飲 酒食飯、落場踢波,一一應付自如。每當意識到班上學生有 問題時,赤尾便會以自己的非凡經歷去鼓勵各人,又會想出 千奇百怪的方法引導學生思考,克服困難。赤尾相信天生我 材必有用:「人人都不同,人人都有用!」成績雖然重要, 但更重要的是學會成長,他的課教曉孩子寛容和關心....
Region 1: U.S., U.S. Territories, Canada, and Bermuda

Region 2: Japan, Europe, South Africa, and the Middle East, including Egypt

Region 3: Southeast Asia, East Asia, including Hong Kong

Region 4: Australia, New Zealand, Pacific Islands, Central America, South America, and the Caribbean

Region 5: Eastern Europe, Baltic States, Russia, Central and South Asia, Indian subcontinent, Africa, North Korea, and Mongolia

Region 6: China