Home
→
Products
→
O.T. Ghost Overtime 搵鬼開OT 2014 (Thai Movie) BLU-RAY with English Subtitles (Region A)
O.T. Ghost Overtime 搵鬼開OT 2014 (Thai Movie) BLU-RAY with English Subtitles (Region A)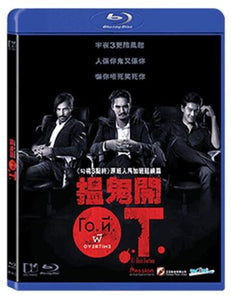 Usually ships within 3 days with TRACKING NUMBER and ships by Hong Kong Post.
O.T. Ghost Overtime 搵鬼開OT 2014 (Thai Movie) BLU-RAY with English Subtitles (Region A)
Director : Isara Nadee
Cast : Shahkrit Yamnarm, Ray Macdonald 
Language : Thai
Subtitles : English, Traditional Chinese
Sound System : Dolby True HD 5.1
Screen Format : 16:9 Widescreen
Disc Format : Blu-Ray
Duration : 111 mins
Release Date : 2015-07-30
Publisher : Deltamac HK   comedy horror
Synposis:
OT Ghost Overtime continues the story from film O.T. in the omnibus 3AM. After being spooked by the ghosts in their office in the first film, Karan (Shahkrit Yamnarm) and Tee (Ray Macdonald) have made it out alive, though they now suffered hallucination and paranoia. They can't use the elevator, and they have to constantly checking if the person standing next to them is actually a human and not a ghost. But still, the two bosses still play ghost-pranks on their employees. This time, they're joined by a new partner Bodin (Ananda Everingham). They tease and spook the staff who stay late in the evening to claim overtime.But things always get spookier late at night in this unusual company.
This time, Together they will have to rescue the company from a critical condition while experience unexpected events in their own office. Their staff who loves overtime too much will be part of this misadventure.
Region A: This region covers all of North America, South America and South East Asia.

Region B: This encompasses Europe, Africa, Middle East, French territories and Greenland.

Region C: Region which covers the rest of the world including Russia, Asia, and China