Saving Santa 聖誕奇兵 2013 (3D) Animation BLU-RAY (Region A)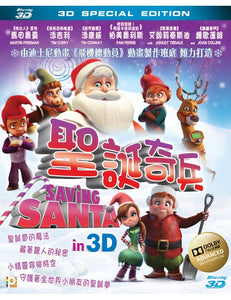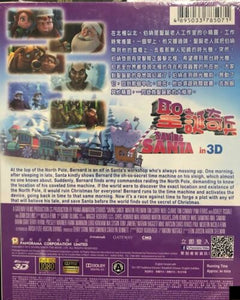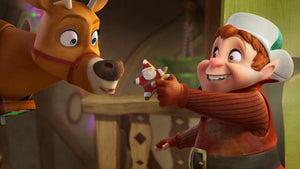 Usually ships within 5 days with TRACKING NUMBER and ships by Hong Kong Post.
Saving Santa 聖誕奇兵 2013 (3D) Animation BLU-RAY (Region A)
A 3D Blu-ray player, a 3D television and 3D glasses are required to view the 3D version of the film.
Director : Leon Joosen, Aaron Seelman
Language: English
Subtitles : English,Traditional Chinese, Simplified Chinese
Duration : 84 mins
Disc Format : 3d
System : NTSC
Sound System : Dolby Digital EX
Screen Format : Widesceen Full HD 1080
Release Date : 2014-12-19
Publisher : Panorama (HK)

Synopsis :

At the top of the North Pole, Bernard is an elf in Santa's workshop who's always messing up. One morning, after sleeping in late, Santa kindly shows Bernard the oh-so-secret time machine on his sleigh, which almost no one knows about. Suddenly, Bernard finds army commandos raiding the North Pole, demanding to know the location of his coveted time machine. If the world were to discover the exact location and existence of the North Pole, it would ruin Christmas for everyone! Bernard runs to the time machine and activates the device, going back in time to that same morning. Now it's a race against time to forge a plot with any elf that will believe his tale, and save Santa before the world finds out the secret of Christmas.

在北極以北,伯納是聖誕老人工作室的小精靈,工作時 常搗蛋。一個早上,他又睡過頭,聖誕老人就把伯納帶到他 的雪橇上,去看那無人知曉的時光機。突然,伯納發現有突 擊隊正襲擊北極,希望得到那台時光機。但若全世界都發現 北極的存在和其真實的所在地,大家對聖誕節的奇想就幻滅 了!伯納走到時光機前,啟動了它,回到那個早上。現在, 他必須跟時間競賽,去說服其他精靈,一同拯救聖誕節的大 秘密。
Region A: This region covers all of North America, South America and South East Asia.

Region B: This encompasses Europe, Africa, Middle East, French territories and Greenland.

Region C: Region which covers the rest of the world including Russia, Asia, and China